Our automated program evaluation tool generates a report reflecting a student's academic progress toward the completion of a degree. The report automatically places the student's course work within a series of requirements and sub-requirements for a specific degree program. Please note: Your Lesley University Program Evaluation is an unofficial assessment of your degree progress. It is an advising tool designed to help students make informed decisions regarding their academic progress.  Students should still meet with an academic adviser to discuss degree progress. Your Program Evaluation report will help you to forecast degree completion and should be used for planning purposes only. It is not an official transcript of your academic record, nor does it constitute a contract between you and Lesley University. Verification of degree requirements can only be certified by the Office of the University Registrar.
How to Access Your Program Evaluation
To run a program evaluation, log on to LOIS and in the student menu, click on "Program Evaluation", which is located under "Academic Profile."

LOIS will show your current active program. Please note: Some programs, such as dual-degree masters and some M.Ed. content area programs are not available. Others may not be available yet.  If you tried to run an evaluation but cannot or have the wrong program listed, contact degreeaudit@lesley.edu.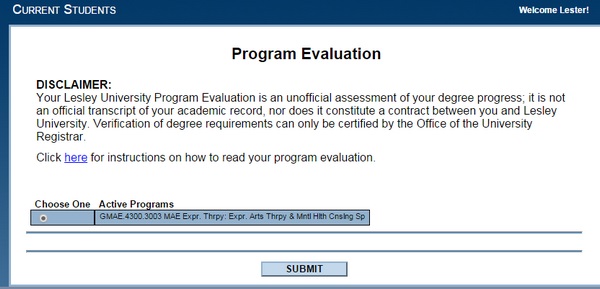 Make sure that the radio button is selected for you active program and click "Submit".  It may take a few moments for your program evaluation to run; you may receive a message that reads "Report for WBSTS10 is not yet complete. Click REFRESH or RELOAD to try again." If so, click "OK" and the evaluation should load momentarily.
How to Read Your Degree Audit
The first item on your program evaluation is the Program Summary. This details your credits and GPA required, earned, and remaining. In the example below, the student is in progress towards their degree. They have earned 41 credits and are required to take 19 more to meet the overall program requirements. They are currently enrolled in 9 credits ("Anticipated Additional") and will, therefore, require another 10* credits ("Anticipated Remaining"). Their status is (In Progress) because they have remaining unfulfilled credits. "Institutional Credits" refers to courses that must be taken at Lesley and "Overall Credits" refers to the total required to complete the program; the difference between Institutional and Overall Credits, in this case 6 credits, is indicative of the maximum number of transfer credits this program allows.
*Please note that the summary is a breakdown of credits only. Some students may need to take more than the "Anticipated Additional" or "Anticipated Remaining." For instance, a student might be 10 credits away from the 60 credit minimum but still need to take additional courses above and beyond 60 credits to meet their remaining program requirements.

The body of your program evaluation details Program Requirements. The usual order of program requirements is Core Requirements, Electives, then Practicum or Internships if required by your program.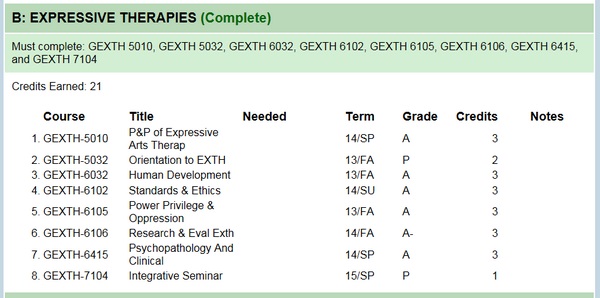 If you have fulfilled a requirement block you will see it marked (Complete). The courses you took will be listed along with the term you took the course, grade you received, and the credits you received.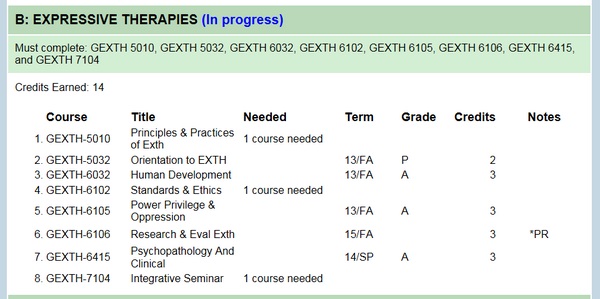 If there is outstanding credit the status of the module will say (In progress). This program evaluation indicates that this student has three required courses remaining and is currently enrolled in a fourth required course.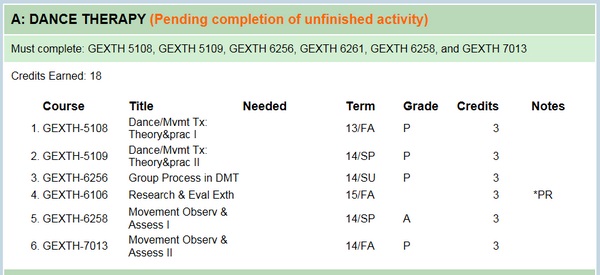 If you are currently enrolled in the final course (or courses) required in a requirement block, the status will read (Pending completion of unfinished activity).

Requirement blocks that you have not yet started will appear as (Not started).


At the bottom of your program evaluation, any courses that do not fall under your program of study will appear under "Other Courses." This might include independent study courses or courses that have not yet been identified as courses that can be applied to your program evaluation. If you see a course here that should be located under a requirement block, contact your academic advisor. There will also be a key to any notes that may apply to your record, usually referencing transfer credits or missing grades.