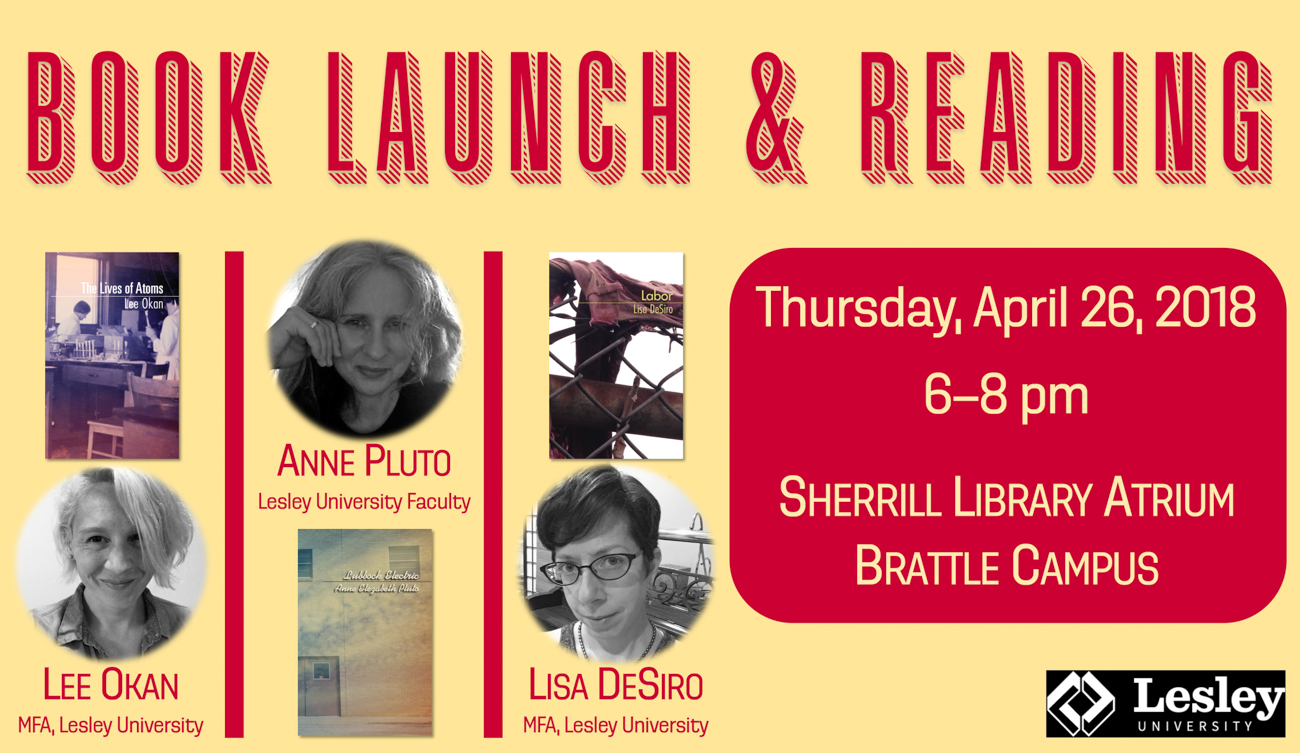 We are happy to announce three new books written by Lesley Faculty and alumnae, Anne Pluto, Lee Okan and Lisa DeSiro.
Anne Elezebeth Pluto is professor of literature and theater at Lesley where she is founder of Commonthought Magazine and the artistic director and one of the founders of the Oxford Street Players. Pluto's most recent book is "Lubbock Electric." She is an alumna of Shakespeare & Company and has been a member of the Worcester Shakespeare Company since 2011.
Lee Okan also received a master's in fine arts from Lesley and remains an active member of the Boston/Cambridge artist community. Okan's most recent book is "The Lives of Atoms." "In an ambitious first book Lee Okan draws a daring parallel between the life of the universe and our own lives and loves. Here is a remarkable weaving of metaphysics and physics, in dreamlike writing as much poetry as prose. Here is a fiction aware of its construction – and willing to let us witness its sequences and discoveries." — Danielle Legros Georges, Poet Laureate, City of Boston.
Lisa DeSiro is the author of "Labor" and "Grief Dreams". She is featured in "Nasty Women Poets: An Unapologetic Anthology of Subversive Verse" and "Thirty Days: The Best of the Tupelo Press 30/30 Project's First Year." Her poem "In Lieu of Flowers" was a winner in the 2017 Sidewalk Poetry Contest and will be imprinted on a sidewalk in Cambridge. Along with her MFA in creative writing from Lesley, DeSiro has degrees from Binghamton University, The Boston Conservatory and Longy School of Music.