Three photographers share their recently published photography books that cover a special place and time that hold a deep meaning for them. Lisa McCarty, Photography faculty Dana Mueller and Amani Willett will share their work and offer a book signing on Oct. 18 at 6 p.m. in the Atrium of the Lunder Arts Center.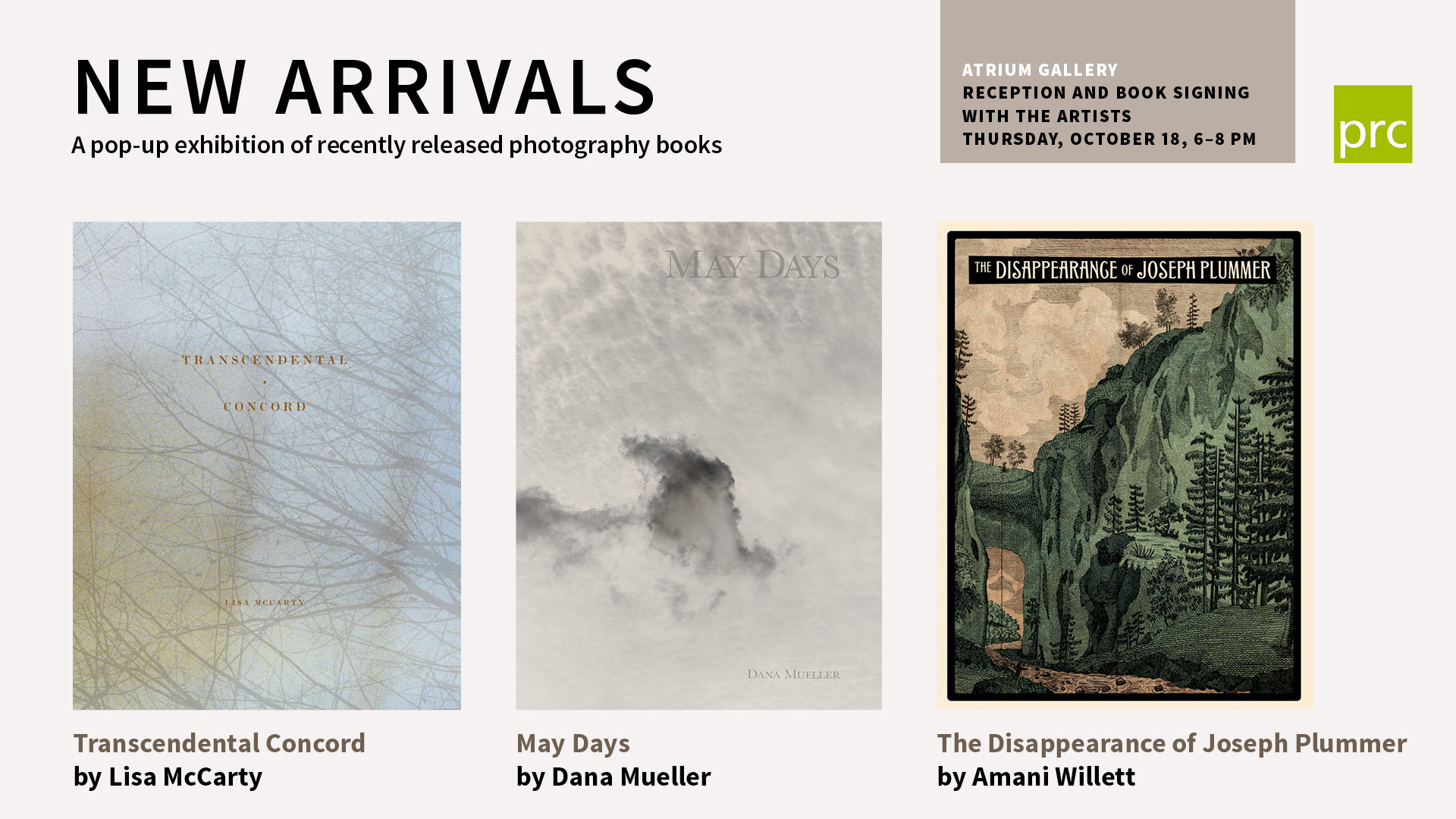 Transcendental Concord documents the spirit of Transcendentalism, the literary and philosophical movement that arose in the mid-19th century. While the circle of Transcendentalists in New England was wide, at its center was a core group that lived in Concord, Massachusetts. Bronson Alcott and daughter Louisa May Alcott, Ralph Waldo Emerson, Nathaniel Hawthorne, and Henry David Thoreau lived within a few miles of each other for nearly 20 years, regularly meeting in each other's homes and on the paths of Walden Woods to discuss their writings and beliefs. In the course of a year and in every season North-Carolina based photographer Lisa McCarty photographed the sites where these Transcendentalists lived and wrote in Concord.
McCarty's parallel reverence for the natural world is evident in her photographs which point to large and small variations in environment, season and light. McCarty uses long exposures and camera movement in order to capture these variations. Transcendental Concord pays homage to Transcendentalism not only in capturing a shared landscape, but in McCarty's technique: her keen observation of natural phenomena and openness to experimentation and chance.
---
May Days is Dana Mueller's first monograph. She has worked on this series of photographs in book form for the past three years. In 2014 and also the following year, she taught photography at the Centro de Estudios Martianos (Center for the Studies of José Martí) in Havana, where she met Cuban friends who introduced her to attitudes, views, and life of the island. The series of photographs are a visual record of time and encounters with people and places which seemed significant to her in the moment.
Hoping to go beyond her own understanding of Cuba based on the associations of a foreigner, Dana became aware of how much lies beyond one's comprehension. Frequently, nothing was as it appeared, and the surface was easily misinterpreted. The verve of its people and punctuation of the everyday were what kept her connected.
Although Dana grew up in the former East Germany, it was important for her not to see things through the filter of socialism and economic hardship, but through social and human engagement that was serendipitous and open. Living in a politically and socially contained system, the deep desire to turn inward felt familiar. As days passed, she began to see things as hieroglyphs of a condition: a society in transition, the atmosphere of anticipation and waiting for change, while wanting to live each day fully and lend meaning to the hour. The singular moments to her journey are those of exchange and, eventually, recognition.
---
Exploring themes of history, place and mythology, the photographs in The Disappearance of Joseph Plummer track a hermit's (Joseph Plummer's) overgrown trail through land Amani Willett's family now owns. His father, unaware of the reclusive man who roamed the area nearly 200 years before him, acquired the deed 40 years ago with the intention of establishing a rustic retreat.
Upon learning of Plummer's existence, Amani began researching his life and photographing a fragmented narrative amidst the same landscape he once inhabited. Amani scoured local archives to find first-hand written accounts describing the hermit's character, as well as bona fide personal effects which appear in the book project. Adding to the visual journey are historical portrait and landscape images from the region that inspired his physical intervention in the form of destructive applique and collage.
The resulting work mirrors the past while keeping Plummer's unknowable history intact. It also reveals how the hermit's existence still resonates today—not only as a constant counterpoint to our fast-paced, technology-driven times—but in conjuring the same romanticized allure that tempts new generations to also venture off-grid.