Building Professional Capacity in Your School
Implementing the Literacy Collaborative model can transform and sustain the literacy achievement of all students in your school or district. The model is based on the belief that teacher expertise is the single most important element in improving student outcomes. Teacher expertise and school culture are simultaneously fostered through well-informed, collaborative, and genuinely committed leaders at both the school and district level.
This research-based model is based upon the extensive work of literacy experts and authors, Irene Fountas and Gay Su Pinnell.
A Design for School Improvement
Effective instruction begins with systematic observation and assessment that leads to responsive teaching that addresses the differing needs of learners. The quality of classroom instruction is essential, providing opportunities for students to benefit from whole group, small group, and individual teaching.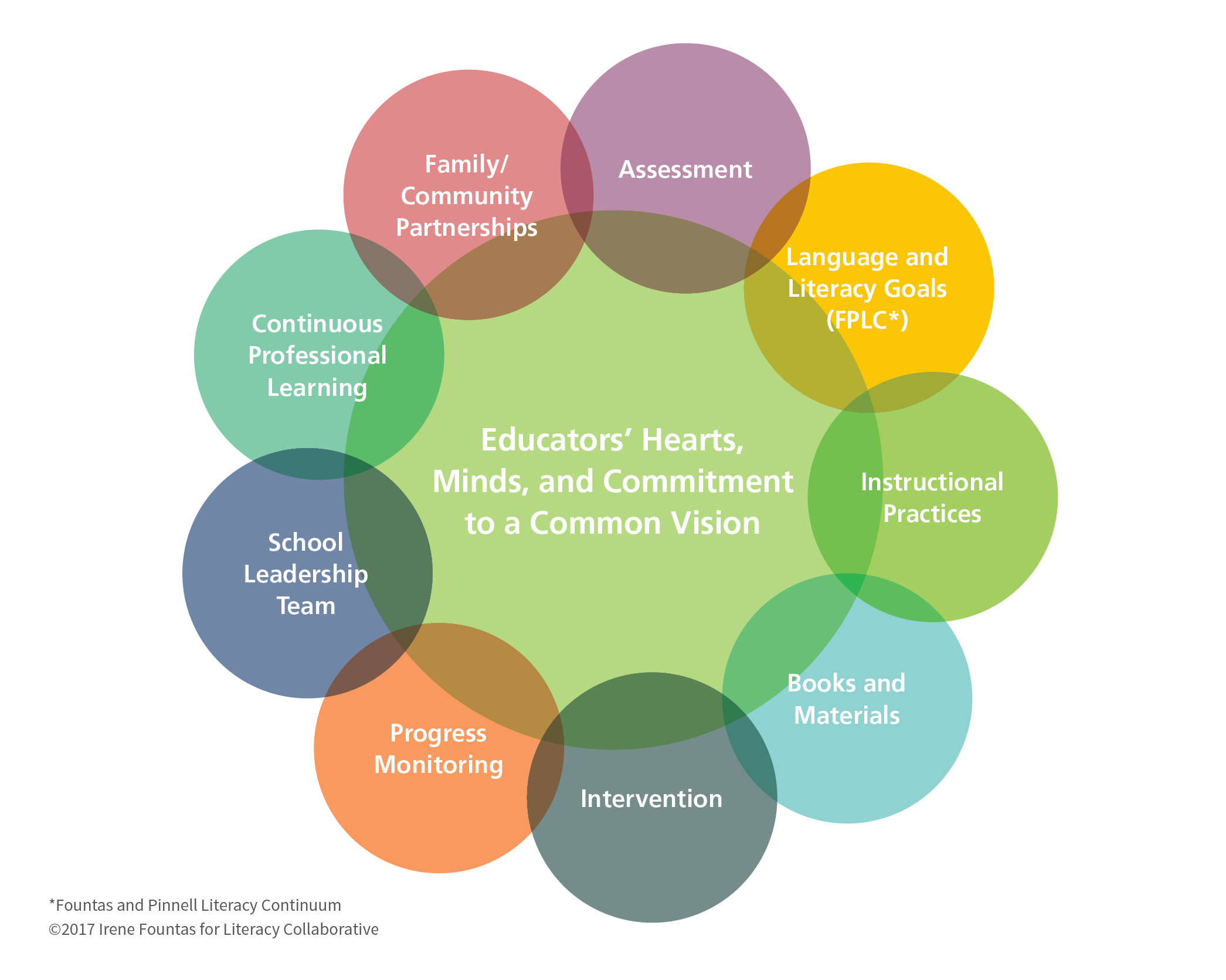 Interactive Read Aloud
Shared Reading
Interactive Writing/Shared Writing
Minilessons
Book Talks
Writer Talks
Group Share
Guided Reading
Guided Writing
Literacy Centers (preK–1)
Literature Study
Conferences: Readers' Workshop, Writers' Workshop
Writing About Reading
Independent Reading/Writing
Literacy Centers (preK–1)
A Coaching and Teaching Model That Works
Literacy Coach Training Levels
Literacy Coach Training Overview
Four weeks of face-to-face professional learning at Lesley University and approximately 120 hours of online coursework throughout the year.
During the training period, you are expected to teach the literacy block in one classroom to refine your understandings and knowledge of how literacy learners change over time.
You will record video of teaching and coaching and complete assigned readings, case study assignments, and reflection papers.
You may provide some in-school professional development to teachers in the first year of training.
A Lesley University faculty liaison supports implementation by providing two or more site visits to the school.
Comprehensive School Improvement is a long-term process that involves the whole school community.
We highly recommend the following seminars before or during the year the coach is in training.
Literacy Leadership Team Institute
Benefits of an Active Literacy Collaborative School
Find out more about what you get with the Literacy Collaborative affiliation fee.
Literacy Collaborative Courses
Literacy Coaches receive 9 graduate credits from Lesley University upon completion of all related course work. You have the option to register for additional credits.
EEDUC 6056: The Reading Process, Texts, and Teaching in Reading Workshop

This course is designed to give students a deep understanding of theory and practice in: the reading process and how children's processing changes over time; an in-depth knowledge of the features of texts, characteristics of genre, and an understanding of how to match texts to readers for effective teaching; and teaching within an organizational framework for reading workshop. Attention will be given to children who struggle and to children whose first language is not English.

EEDUC 6057: The Writing Process, Students as Learners, and Teaching in Writing Workshop

This course is designed to help students develop deep understandings of theory and practice in: the writing process and how children develop as writers over time; the use of assessment to inform ongoing instruction; supporting learners through inquiry into genre craft, and conventions of writing, and how to use an organizational framework for teaching in a writing workshop. Attention will be given to working with children who struggle learning and those whose first language is not English.

EEDUC 6051: Multiple Roles of the Literacy Coach

This course will give teachers the opportunity to develop theoretical knowledge and skills necessary to work as literacy coaches in their schools or districts. Participants will gain experience in how to develop and work with school literacy teams, plan and implement professional development sessions, and provide collegial coaching around the reading and writing processes and the implementation of reading, writing, and language/word study workshops.
University Hall
1815 Massachusetts Avenue
Cambridge, MA 02140
Lesley University
29 Everett Street
Cambridge, MA 02138