Lead your students to a literate, successful life.
The Fountas and Pinnell Classroom™ is a system of providing literacy instruction to students by using a variety of texts and approaches. This training is designed for teams of teachers, literacy specialists, and school leaders PreK-6 who plan to or are presently implementing Fountas and Pinnell Classroom™. 
You can take this training virtually via live webinar sessions that are delivered in real-time. We also offer in-depth and customized training options for your school or district virtually or in-person. 
Real-Time Virtual Learning Dates: July 9-10, 2020 
With Your Colleagues: For a group, by request virtually or in-person
Expand student learning beyond the classroom. Learn how to teach your students in whole group, small group, and independent contexts using methods that include:
Interactive Read-Aloud
Reading Minilessons
Shared Reading
Guided Reading
Independent Reading
Word Study Lessons
Book Clubs
The Fountas and Pinnell Classroom™ system is rich with texts, lessons, and professional tools that will transform your approach to literacy instruction. This system was developed by literacy experts Irene Fountas and Gay Su Pinnell.
You'll earn 12 professional development hours in this seminar.
Real-Time Virtual Learning Option
July 9-10, 2020 | 9:00-11:30 am & 1:00-3:30 pm (EST)
Participation during these times is required. We may assign additional work to meet the required professional development hours. After you register, we'll send you information about how to access the virtual platform.
$595 (includes The Literacy Quick Guide)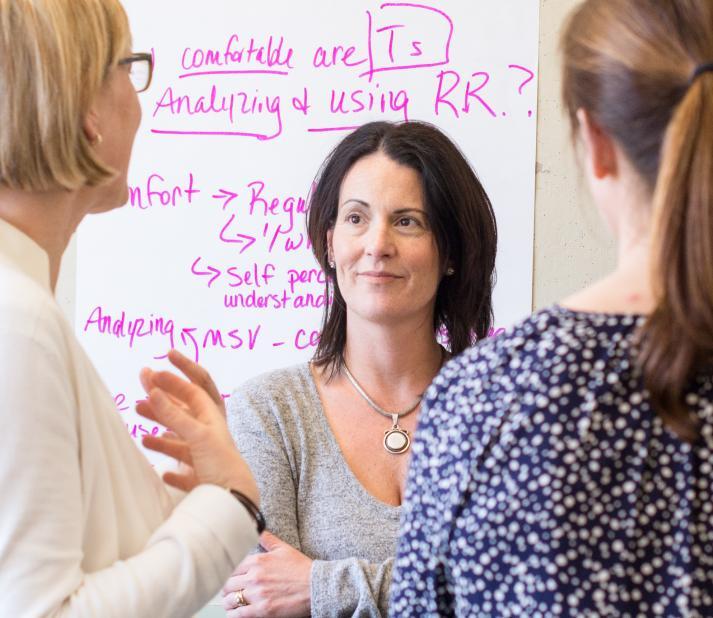 With-Your-Colleagues Option
We tailor the professional learning on the Fountas & Pinnell Classroom™ system to your needs. It can include a combination of interactive read-aloud, reading mini-lessons, shared reading, guided reading, independent reading, word study lessons, and book clubs. Your school team will develop shared understandings and learn to integrate responsive teaching into practice through hands-on learning experiences. 
This training can be delivered virtually or in-person, depending on COVID-19 and social distancing guidelines. Inquire here for onsite professional development pricing, or call 617.349.8693.
Cancellation Deadlines & Refund Policies
Noncredit
You must cancel in writing at least two weeks before the start of the course to get a refund, minus a $50 processing fee. Email litcol@lesley.edu to cancel. If you are unable to attend, you may send a substitute at any time. Regardless of weather conditions, if the event is held but you cannot attend, you will be billed for the full amount.
Registration Deadline & Shipping Policies 
The registration portal closes two business days before the first day of training to allow the minimum amount of time to ship training materials. 
If you register within the week before the registration portal closes, you may still experience delays in receiving your materials and incur additional fees for expedited shipping. 
Lesley University
Center for Reading Recovery & Literacy Collaborative
29 Everett Street
Cambridge MA 02138