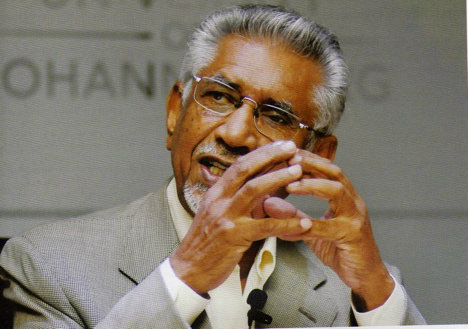 The Lesley Library Lecture Series begins the 2017-18 season with an afternoon with Mac Maharaj.
Described by Nelson Mandela as "one of South Africa's founding fathers," Mac Maharaj became active in the struggle for democracy and freedom in 1953. He served twelve years imprisoned on Robben Island, smuggled out of prison the draft of the "Long Walk to Freedom" by Nelson Mandela, and served as one of the joint secretaries of the multiparty negotiations that produced the Interim Constitution, which ushered in the first democratic elections of SA in April 1994. Mr. Maharaj served from 2011-2015 as the spokesperson of Jacob Zuma, President of the Republic of South Africa. He was also the Chair of Project Democracy at Bennington College, and is the editor of "Reflections in Prison" (2001), and the subject of the biography "Shades of Difference: Mac Maharaj and the struggle for South Africa" (2007) by Padraig O'Malley.
A reception will follow the lecture in the Sherrill Library Atrium.
RSVP: https://www.eventbrite.com/e/lesley-library-lecture-mac-maharaj-tickets…